Welcome to the Pi In The Sky Project
Pi In the Sky is a simple and reliable GPS radio tracker board for the Pi.

This board is a GPS receiver and radio transmitter designed for tracking high altitude balloon flights. It uses a UHF radio transmitter which is license-free in Europe (for other areas check your local regulations). To track the location of flight you also need a radio receiver, aerial and PC on the ground. Suitable radios include TV dongles - see http://ukhas.org.uk/guides:sdr_tracker for examples of suitable models and full instructions.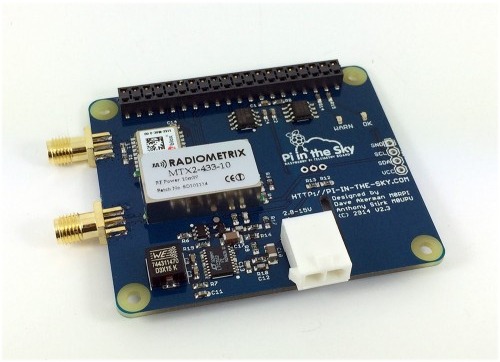 PITS+ Board for model A+, B+, V2 B
Together with the supplied, open-source software it embodies the experience of over 50 successful flights, about half of which have used the Raspberry Pi.
It features:
Efficient built-in power regulator providing run time of over 20 hours from 4 AA cells
Highly sensitive UBlox GPS receiver approved for altitudes up to 50km
Temperature sensor
Battery voltage monitoring
Sockets for external i2c devices, analog input, external temperature sensor
Allows use of Raspbery Pi camera
Mounting holes and spacers for a solid connection to the Pi
The open-source software provides these features:
Radio telemetry with GPS and sensor data using UKHAS standard
Radio image download using SSDV standard
Multi-threaded to maximize use of the radio bandwidth
Variable image size according to altitude
Stores full-definition images as well as smaller transmitted images
Automatically chooses better images for download
Configurable via text file in the Windows-visible partition of the SD card
Supplied as github repository with instructions, or SD card image
You can purchase the boards via Uputronics here.
For support, see our support pages or read the new manual.
We do now support the Pi B V3 (see updated instructions / manual). We still recommend an A+ for flight however (lower power consumption and less weight).
Published on